Let's explore together top tourist places in Turkey to get to know them and know where it is located and what distinguishes it and how you can reach them! This blog will show you all the must-visit places in this beautiful Eurasia country.
10- Ayder
Aydar is located in the north of Turkey and follows the Riza province, one of top tourist places in Turkey and best tourist places in Turkey.  
Annually, thousands of foreign tourists visit it, most of them are from Arab and Gulf countries.
Charming landscapes, vast green spaces, natural waterfalls, woodlands, and eateries are abundant along the route to Ayder.
Ayder is in a great location, surrounded on all sides by mountains, forests, and waterfalls. In addition, it offers breathtaking vistas of plains, valleys, and tall mountains with snow-capped summits.
9- Akyaka
Let's discover one of top tourist places in Turkey, which is Akyaka, a seaside town that is located in southwestern Turkey.
It is an amazing and beautiful tourist destination that made it one of best tourist places in Turkey. The charm of its wonderful coasts gives you unparalleled comfort and happiness, and its picturesque nature and unforgettable beaches are classified among the most beautiful places Tourist in Turkey at all.
8- Fethiye
Fethiye, a town in Turkey's Mugla Province, located near the confluence of the Mediterranean and Aegean seas. Thanks to its beautiful coasts, forests, and amazing, Fethiye classified among top tourist places in Turkey.
This city gives you a great diversity of tourist activities, including beach activities, weekly markets, visiting famous rock tombs, hiking, boat trips, and exploring Fethiye by paragliding. The city annually receives hundreds of thousands of foreign tourists; Especially in the summer and on New Year's Day, the city witnessed an unprecedented turnout after the easing of restrictions to combat the Corona pandemic.
7- Uzungol
Uzungol is located in the north of Turkey and belongs to the charming city of Trabzon, and it is among the most beautiful tourist places in Turkey, which are visited by tourists from far corners of the earth in search of calm and fun.
This quiet village with fresh air that refreshes the soul, and picturesque nature with wondrous scenery that delight the eyes and captivate the hearts one of top tourist places in Turkey in recent years.
This year, Uzungol received nearly one million tourists, due to the abundance of beautiful tourist places, and affordable restaurants and hotels compared to other Turkish tourist cities.
أجمل اماكن سياحية في تركيا على الإطلاق لعام 2022
6- Marmaris
Marmaris is located in the western part of Turkey and it is also part of the Mugla Province at the confluence of the Mediterranean and the Aegean coasts.
A tourist who wants to discover the most beautiful tourist places in Turkey cannot miss the opportunity to visit one of top tourist places in Turkey like Marmaris.
It is a unique tourist city, that has the ability to amaze you in every part of it, its breathtaking beauty cannot be forgotten.
There are many hotels, restaurants, popular markets and entertainment venues with international standards in Marmaris.
The mild weather of Marmaris and its attractive tourists stretching along the Mediterranean Sea and its unique beaches is what distinguishes this city from others, and increases the number of tourists and makes it one of best tourist places in Turkey.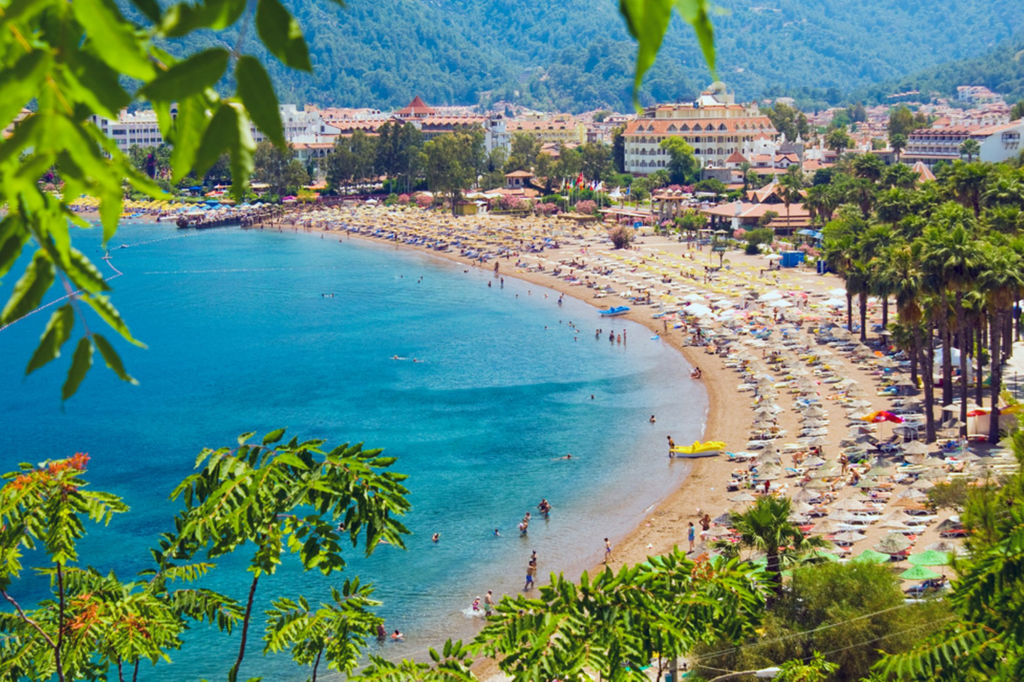 5- Bursa
Those looking for top tourist places in Turkey can't miss the opportunity to visit Bursa, which is the fourth largest city in terms of population in Turkey, and it is located in the northwest of Turkey overlooking the Sea of Marmara.
Bursa has a variety of recreational activities, which are characterized by low prices, and it is also rich in many historical monuments belonging to the civilizations and peoples that resided in it, most of  it belongs to Ottoman civilization. Its striking beauty and enchanting nature are indescribable; From the famous Uldag Mountain to Siyatpat Falls to the hidden paradise of Sansarak! All of them give you an exceptionally enjoyable tourist experience.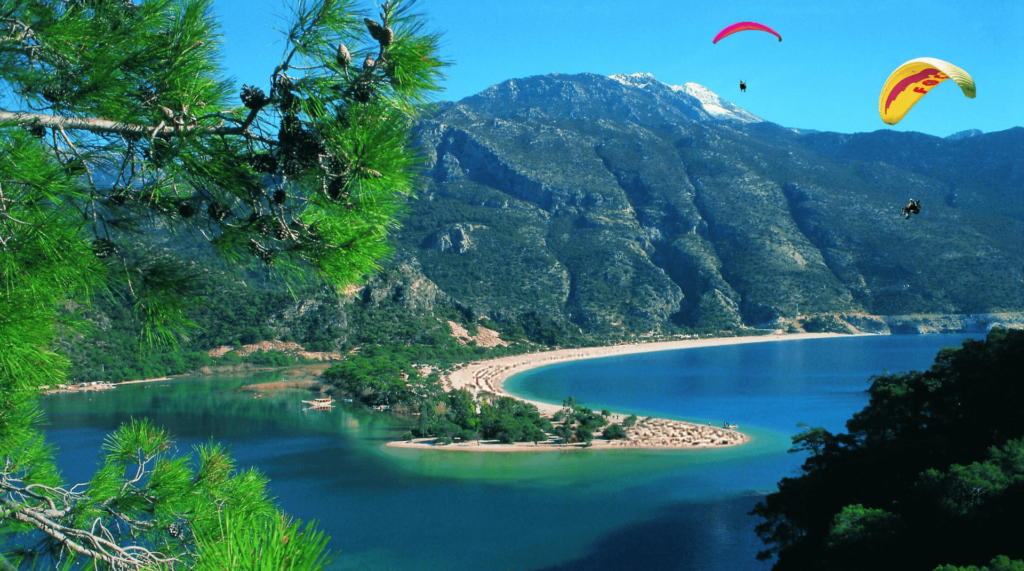 4- Bodrum
Bodrum is one of the cities in the province of Mula in the southwest of Turkey, it is a paradise on earth and comes among top tourist places in Turkey.
Its picturesque view of the Mediterranean Sea gave it long and distinguished beaches and coasts that made tourism in Bodrum top the lists of Turkish travel plans.
A charming city with its pinkish evening, fresh air, mild weather, and captivating sandy beaches.
All tourist services are available in Bodrum, including: The luxurious Bodrum resorts.  Bodrum characterized by moderate atmosphere throughout the year.
3- Antalya
One of the most well-liked travel destinations in both Turkey and Europe is Antalya and top tourist places in Turkey, also referred to as the Turkish Riviera and the Pearl of the Mediterranean.
Tourists flock to it all days of the year in search of various options for a unique summer vacation among the ancient streets, old restaurants and ancient buildings. Its beautiful nature welcomes you with love, with its fresh air, beautiful beaches and waterfalls.
2- Izmir
On Turkey's Aegean coast, in the north, is the lovely metropolis of Izmir, one of top tourist places in Turkey. Izmir is the third largest city of Turkey with a population over 4,4 million. It's a modern city and one of the main hubs for exporting various agricultural and industrial products from its port.
"Beautiful Izmir," as it is known in Turkey, is a tourist haven on earth with its coastline, beaches, mountains, plateaus, thermal spring, forests, and agricultural produce exclusive to the Aegean, as well as its warm and hospitable people.
1- Istanbul
Istanbul, or Constantinople if you prefer that name, is a lovely metropolis located where Europe and Asia meet.
The largest city in Turkey, Istanbul is heaven for traveling on a budget! one of top tourist places in Turkey and a must-see on any bucket list, it has more than 15 million people and god knows how many cats call it home.